Discover more from [99%Tech]
⚡️[99%Tech] The frontier of innovation
Over 4,000 subscribers
Industry creators, latam insuretech, Founder mental health
The future of tech is global. We discuss it here.
Industry creators
Startups have a role to play in building our economy in the current climate. "Sadly the reasons for this aren't exactly rosy: war in Ukraine, rising tensions in Taiwan, and global supply-chain fragility have reminded our entrepreneurial class that America's dominance isn't guaranteed. But more founders are building technology companies in the areas that Washington cares most about: aerospace, defense, manufacturing, supply-chain and physical infrastructure—all sectors that Silicon Valley ignored a decade ago. We call this movement American Dynamism, because these companies help keep America the country from which people want to be, to which they want to immigrate, and in which they want to build a family, a career or a company."
Historically, Creators (startups building industries) existed far more internationally. "A study by Village Capital determined that out of the nearly 300 unicorn startups in the United States, less than 20% focused on critical industries with large market gaps like health, food, education, energy, financial services or housing. By comparison, an analysis by the Global Accelerator Learning Initiative (GALI) determined that the next wave of entrepreneurs in emerging markets predominantly operate in these sectors– often where there are no existing formal solutions." We need more in North America.
This is not just good for society. It is also good for the companies. Creators tend to be more resilient long-term. "As tech companies slash perks and cut jobs, the downturn has spurred a wake-up call among many workers, causing them to question whether their company's role in society — selling ads or selling stuff, often — was actually making the world a better place. The result?" The article argues that climate startups will benefit. But the same is true of the broader ecosystem of impactful businesses.
But remember, technology is not a panacea, as we have seen in San Francisco's doom loop "The doom-loopy vision laid out for downtown SF was not pretty: Workers don't return, offices remain empty, restaurants shutter, transit agencies go bankrupt, tax bases plummet, public services disappear. According to research from the University of Toronto, cell-phone activity in downtown SF is 32 percent of pre-pandemic levels. That number is 75 percent in New York." Startups, the very thing that drove economic success in Silicon Valley, without appropriate regulation, engagement in society, left the city more susceptible to today's issues.
Creators: you have work to do!
Will you invest in insuretech in Latin America?
That was the question I and a few other venture capitalists were posed last week at the inaugural Insuretech Connect LatAm, and I wrote about it in my Forbes Column here. The answers on the panel ranged from cautious optimism to a systematic strategy of ongoing investment.
First some context: insurance technology, called insuretech, has scaled globally from a small sideshow in fintech to its own massive sector. Globally nearly 30 unicorns have emerged in the space in the US alone. The global insuretech market is expected to reach $170b in this decade. Latin America is poised to be an important player. According to a report by Digital Insurance LatAm, the LatAm ecosystem grew by +18% in 2022, reaching a record level of 464 insuretechs.
Yet, the backdrop is not pretty. Insuretech public market performance has been abysmal (e.g. Hippo is down >90% since their IPO and Lemonade is down >80%). This is within a broader pull back in the technology market and a tsunami-sized shift towards capital efficiency – a shift that has been particularly challenging for insuretechs who became actual carriers with balance sheet needs.
So where is investor interest netting out? Coming out of this discussion and several meetings with ecosystem players in the space, five investor priorities emerged.
—> Read the rest of it HERE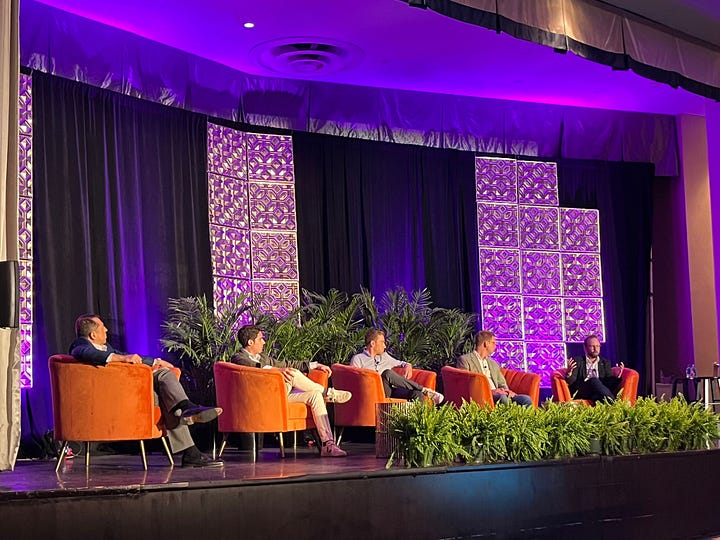 Interesting discussions
The next domino in the banking crisis has fallen: First Republic was rescued by JP Morgan Chase. "Federal law normally prohibits institutions that control more than 10 percent of the nation's deposits from acquiring other banks. But that restriction does not apply when the target is failing." From personal experience, it can be slow to open a institutional bank account with one of the majors. But for many startups and venture funds in Silicon Valley, they effectively just backed into a JP Morgan relationship which is good news. The bad news is this story is still not done.
What happens when you shut down a startup? For the company, it is complicated but the playbook for an orderly transition is reasonably straight forward, and much ink has been spilled on the topic. But what happens for the founder, and their sense of identity tied up in the business?
Fabulous article by Kristen Anderson, the founder of Catch, and her own personal journey. "For some of you, it might feel like something shriveling up and slowly disintegrating into nothingness. For others, it might feel like an amputation — a clean cut that's there one day and gone the next. For a few, it's an explosion that comes out of nowhere and blindsides you into a million little pieces…for most founders, the death of your company (or your relationship to it) isn't something that happens overnight. For most of us, we've seen it coming for months…At first, it's a panicked wake-up in the middle of the night. Fleeting thoughts after a bad week….Then, the data starts to come in…Finally, you get to the point where you have to be honest with everyone. The first time you say out loud that you have to shut the company down, it will stick in your throat. It will burn like a tequila shot at 9 in the morning."
The term du jour is de-globalization. But what will that mean? For startups, I don't believe we will see companies being built entirely locally. The ship has sailed. But where and how companies get built will nonetheless change. Nearshoring will be part of that agenda. "So-called nearshoring—hiring or outsourcing to workers in locales closer to a company's home market rather than in distant Asia—is all the rage these days in Mexico, where new factories are springing up along the US border, built by US companies shifting operations from China. But nearshoring is also benefiting countries throughout Latin America that aren't that close to the US."
The power law is alive and well in venture. But it also highlights political risk. "ByteDance – the Chinese parent company of social media app TikTok – is the world's most valuable startup….For its investors, some of whom backed the company when it was still valued in the millions, an eventual ByteDance public offering would mean billions, and even tens of billions of dollars, in profits, instantly vaulting their investments into the ranks of the top VC bets of all time."
Where is the next factory for the world? For the last few decades it has been China. Good piece arguing India is a strong contender. "Western companies are desperately looking for a backup to China as the world's factory floor, a strategy widely termed 'China plus one.' India is making a concerted push to be the plus one."
Book of the month
Today's edition opened with Creators: founders as the protagonists making the world a better place. Unless we take action, nothing will get done.
So this month's book of the month is one of my favorites to read to my daughter Artemis: The Lorax.
Rather than tell you about the book, I'll let you watch it sung/rapped.